The vibrant energy at the Renaissance Harbour View, Hong Kong, during the HFM Asian Services Awards 2023, was electrifying, and being distinguished as the "Best Administrator – Under $30bn Single Manager" brought forth a moment of collective pride for all of us at The Ascent Group. But beyond the celebration and accolades, what does this mean for our partners, clients, and those contemplating joining hands with us in the future? It is more than a trophy; it's a testament to a promise upheld and a quality of service uniformly delivered.
Delving Deeper into the HFM Asian Services Award
The HFM Asian Services Awards are a benchmark of proficiency, reliability, and innovation in the Asian hedge fund sector, attributing these recognitions to firms that demonstrate unyielding commitment and exceptional performance. Winning the award for the "Best Administrator – Under $30bn Single Manager" signifies that The Ascent Group has successfully provided not just efficient, but innovative, tailored, and reliable administrative services to hedge funds, ensuring their investments are managed with utmost skill and safeguard.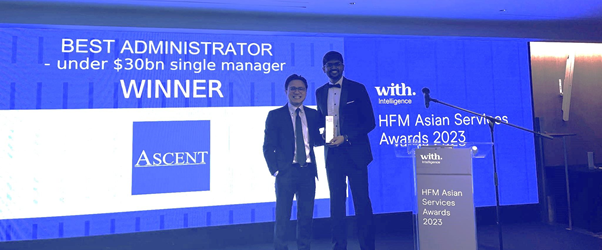 For our clients and future partners, this recognition offers an assurance: The Ascent Group isn't just proficient in managing complex, high-value funds but does so with a level of service quality and innovative approach that stands out in the industry. Your investments, strategies, and assets are not just managed; they are nurtured, protected, and optimized, underpinned by a team and strategy that has been celebrated for consistent excellence.
To Our Dedicated Team: The Pillars of Our Achievement
To our incredible team at The Ascent Group – this award is as much yours as it is the company's. Your untiring dedication, innovative thinking, and steadfast commitment to excellence have been pivotal in steering us toward this prestigious accolade. It's your day-to-day efforts, the small wins, and the persistent pursuit of excellence that have collectively culminated in this significant achievement.
Navigating Complexities Together
The world of hedge fund services is intricate. It demands both expertise and the human touch. Our win is not just a reflection of our innovative strategies; it's a testament to the deep relationships we've fostered. Every challenge we've overcome, every solution we've crafted, has been a shared journey with our partners and clients.
Expressing Our Gratitude: Clients and Partners, Our Pillars of Strength
A heartfelt thank you to our esteemed clients and partners. Your unwavering trust and collaborative spirit have been the cornerstone of our innovations and accomplishments. You've not only been clients or partners but integral contributors to our learning, growth, and achievements. Every milestone we reach is mirrored by the success stories we've created together, and for that, our gratitude is boundless.
Acknowledging Every Contributor to This Milestone
From our diligent back-office staff, astute strategists, and innovative leaders to our partners who've stood by us, and clients who've believed in us – every individual has played a crucial role in scripting this success. Your trust, partnership, and individual contributions are what make accolades like the HFM Asian Services Award possible.
Your Trust, Our Driving Force
Our primary aim has always been to ensure the prosperity and security of your investments. Every recognition we receive is a direct reflection of the faith you've placed in us. It's evidence of the collaboration and trust that powers our collective journey.
Staying Grounded in Our Commitment
While awards validate our efforts, they also underscore our responsibility. Our commitment isn't just about maintaining industry standards but elevating them. And at the core of that commitment is you – our valued partner. We understand the weight of your trust, and it motivates us to consistently strive for excellence.
Looking Ahead: A Journey Steeped in Collaboration
Our vision for the future is clear – to strengthen our collaboration, deepen our understanding, and continue to provide you with unparalleled service. The HFM award is a significant milestone, but it's one of many in our shared journey of mutual growth and success.
Your success is our success. We're deeply grateful for the trust you've placed in us and look forward to celebrating many more milestones together.