Recognized for Excellence in Fund Administration, Innovative Solutions, and Compliance Solutions
We are delighted to announce that The Ascent Group has emerged as a winner in two prestigious categories at The WealthbriefingAsia Awards 2023. Our company has been honoured with the following awards:
'Best Fund Administrator Services and Innovative Solutions under 30 billion (APAC)':
This award recognizes our firm's relentless focus on proprietary solutions for core systems, making us a true innovator in the alternative investment space. We continuously strive to identify key differentiators that enable our clients and partners to thrive in their businesses.
'Best Innovative Compliance Solution and RegTech Product (APAC)':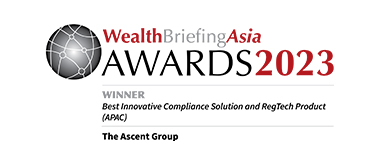 In this category, our experienced and dedicated team, combined with our local presence, stood out. As strategic partners to our clients, we provide expert guidance, comprehensive information, and invaluable support, empowering them to flourish in today's increasingly sophisticated and dynamic investment landscape.
The WealthbriefingAsia Awards program is renowned for its recognition of the most innovative and exceptional firms, teams, and individuals in the wealth management industry. Winning these awards reaffirms our commitment to delivering outstanding services and solutions that drive innovation and excellence.
As a global program by WealthBriefingAsia, alongside WealthBriefing and Family Wealth Report, these awards hold immense significance. They reinforce our position as a trusted partner in the industry, providing reassurance to clients about the solidity and sustainability of our business and operating model.
We extend our heartfelt gratitude to our esteemed clients for their unwavering support and trust in our work. This recognition would not have been possible without their continued partnership. We are also grateful to our exceptional team for their dedication to delivering exceptional client service, which has been instrumental in our success.
Kaushal Mandalia (Group Chairman), and Jaideep Mukhariya (Group CEO) of The ASCENT Group had this to say:
"We are truly honoured to be presented this prestigious award. We are grateful to our clients for their constant support of our work and our team for their dedication to client service excellence. We would also like to share our success with the global audiences. This award is a testament to our continuous effort in fostering an environment where our team are inspired to deliver exceptional client service. We will continue to stay focused to ensure we continue to create true value to our clients."
At The Ascent Group, we remain committed to pushing boundaries and setting new industry standards. These awards serve as a testament to our continuous efforts in delivering innovative fund administration services, proprietary solutions, and compliance expertise. We are privileged to be part of an elite group of wealth management professionals driving innovation and excellence in the industry.
We invite you to join us in celebrating this remarkable achievement. Stay tuned for more updates as we continue to elevate our services and empower our clients to thrive in an ever-evolving market.